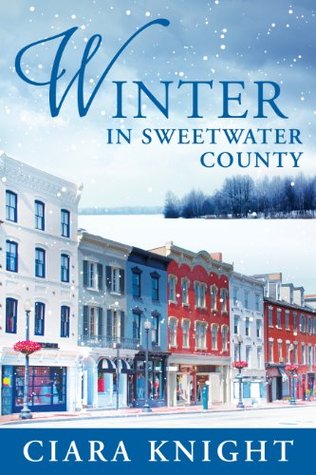 Winter in Sweetwater County
by
Ciara Knight
(Goodreads Author)
Lisa Mortan's ideal life crumbles when her rich and powerful fiancé demands she ends an unwanted pregnancy. With no job or social support, she flees to a small town in hopes of finding a good family for her unborn baby, but instead finds a man who is as broken as she is.

Eric Gaylord returns to his home town for a respite after a tragic loss, but when his spitfire mother takes on an unknown woman as a business partner, he is forced to face the nightmare he'd left behind or risk losing the one woman who could heal his heart.

My Review:

I wasn't sure if I would like this book. The beginning was totally unrealistic. People do not start a business with a person they don't know especially from a social network site. Also people do not fall in love with someone after only 2 days. I almost put the book down, but I am happy I continued reading it. The setting is in a small cozy town which is a setting I seem to like lately. The book became more realistic when the main characters, Lisa and Eric, have very similar secrets in their lives. Once they get to know each other the secrets are revealed. I found the book had some tension and drama which kept me going to a point I couldn't put the book down. I am glad it only had a little less than 200 pages (EBook book that I downloaded for free.) The plot was not dragged out so I didn't become bored with it. I found the characters to be caring people but of course there was one evil character in the book. There always seem to be one of them included in books. Even though the story was a romance , it didn't have smut in it which is fine with me. This is my first book to read by this author. I will be interested in reading the other 4 in the series. I am hoping I can get them from the library.